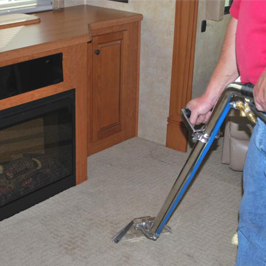 Las Vegas RV Storage: Shampoo Carpets - $65 per hour
Our Trained Storage Technicians in our Las Vegas RV Storage Facility will shampoo the carpets in your car, boat, RV, MotorHome, MotorCoach, Fifth Wheel, Travel Trailer or anything else you store with us that has carpet. We will shampoo the carpet for you at a rate of $65 per hour that will be professionally cleaned. Call or stop by 24/7 Indoor Storage today!
The carpet in your RV or motor coach takes a beating every time you take your vehicle on the road. By the time you return from your trip, the carpeting can be dirty and stained from food spills and dirty shoes, especially in high traffic areas. With our affordable RV carpet shampoo service, you can restore the appearance of your floor covering and extend its lifespan.
Simply drop off your RV for storage and leave the time consuming job of shampooing the carpet to our professional trained cleaning technicians. Our staff knows how to care for carpeting of all kinds and they are happy to save you the hassle of gathering the necessary supplies and equipment and getting your hands dirty. They always use the proper products to avoid any damage to carpet fibers during the cleaning process. We will make sure the carpet is completely dry before locking up your RV to prevent the growth of mold and mildew.
Having our cleaners shampoo the carpet in your RV after you return from a long road trip will better prepare our vehicle for storage. If you leave dirt and stains to sit over a long period, it will only make them more difficult, if not impossible, to remove. Cleaning the carpets also eliminates odors any that can become trapped inside and make the air smell foul while the vehicle sits. Your RV will smell cleaner and fresher the next time you take it out if you have the carpets shampooed before it goes into storage.
For just $65 per hour, you can have your RV carpet professionally shampooed and save the time and hassle of doing it yourself. Your carpet will be easier to maintain during your next trip and it will stay newer looking for longer.
If your recreational vehicle is your pride and joy, you want it to be clean and presentable wherever you go. With the help of the experts at 24/7 Indoor Storage, maintaining the appearance of your RV is easier than you ever imagined it would be. Let us worry about cleaning it so all you have to do is enjoy driving it. In between outings, you can rest assured because your vehicle is safe from harm in our climate-controlled facility.
We are conveniently located approximately 1 mile west of I-15 on Ponderosa Way. Call us at 702-296-1515 or stop by to see what makes us the leader in Las Vegas indoor vehicle storage.
Call 24/7 Indoor Storage at 702-296-1515 or Send us a messsage below: