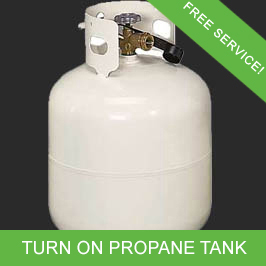 Turn on RV Propane Service
When you pick up your RV at 24/7 Indoor Storage, our qualified technicians will turn on your RV Propane Tank(s) and will check to make sure everything is in working order.
The propane system is among the most versatile systems in today's most popular RVs. Propane is the primary fuel source most recreational vehicle owners rely on to heat water, refrigerate food and stay warm. After picking up your RV from storage, it is important to remember to open the valve on the propane tank. When you choose 24/7 Indoor Storage, this task is just one of many outgoing services we are happy to provide free of charge to our customers.
Propane, also known as liquid petroleum gas (LPG) or liquid petroleum (LP), is a popular fuel because it burns clean, is less expensive than gasoline, is readily available and when used with the proper precautions, is safe and effective. When handling propane on your RV, it is always better to err on the side of caution. A leak around a fitting or somewhere in the line can cause a build-up of propane in the tight confines of the vehicle. When that happens, any ignition source, including a spark, lit cigarette, pilot light or match can cause an explosion.
All small propane tanks up to 40-lb capacity now come equipped with an overfilling protection device, or OPD, to prevent users from adding too much fuel to the tank. RV appliances run on gaseous propane. The liquid propane in the tank requires empty space to convert to gas. The OPD automatically closes the fill valve at the proper time to make sure there is empty space left over after adding fuel.
Our staff will save you preparation time by making sure the propane tank is ready to use before your next RV trip. If you need additional services to save time, contact us for pricing on vehicle delivery, ground transportation to the storage facility, fueling your RV, filling the propane tanks, cleaning and even stocking the refrigerator and pantry with supplies.
24/7 Indoor Storage provides RV indoor storage Las Vegas recreational vehicle owners need at a competitive rate plus the extras that enhance the joy of owning an RV. Call us today at 702-296-1515
Call 24/7 Indoor Storage at 702-296-1515 or Send us a messsage below: