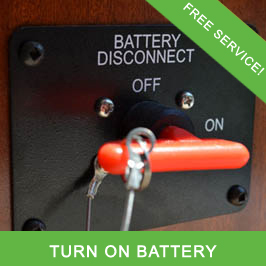 Turn on RV Batteries Service
We always recommend giving us at least 48 hours notice to picking up your RV so that we can turn on your batteries and make sure they are still charged. Giving us notice will allow us to charge your batteries so that they are fully charged when you pick it up.
When you finally have a chance to get away from it all, you don't want to waste a moment of your precious time. That is why the Las Vegas RV storage customers who choose 24/7 Indoor Storage love our free outgoing services, which include turning on the battery before your next RV adventure.
The lifespan of your RV's battery depends on a number of factors, including where you store your RV and how you prepare it for storage. Storing your vehicle in our climate-controlled building eliminates the risk of your battery freezing when the temperature falls during the winter.
When you return your vehicle after your trip, our staff will disconnect the battery before the RV goes into storage. This prevents any parasitic discharge caused by various systems and appliances such as ground faults, stereos, propane leak detectors, appliance circuit boards and clocks.
The next time you want to take your RV out, give us 48 hours notice and we will test your battery to verify it has a full charge. If not, we will charge it up for you so you can just load up and go.
We offer a wide range of additional services to save you time when you are anxious to get on the road. Your vehicle will always look its best when you take advantage of our RV housekeeping, carpet shampooing, exterior washing and detailing services. Our staff can top off your fuel tank, fill up your propane tank and even take your shopping list to the local Vons and stock your shelves and fridge.
At 24/7 Indoor Storage, we pride ourselves on taking care of our customers and providing them with maximum value for their dollars spent. If you need something a little extra that is not listed on our "Additional Services" page, just ask. We will do everything possible to make sure your experience meets your highest expectations.
Call us at 702-296-1515 and speak to a customer representative for more information about the best indoor RV storage in Las Vegas.
Call 24/7 Indoor Storage at 702-296-1515 or Send us a messsage below: