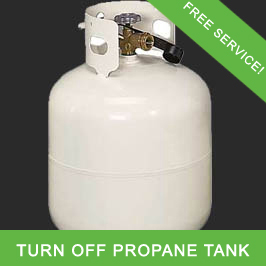 Turn off RV Propane Service
As part of your storage service, 24/7 Indoor Storage will turn off your propane tank(s) upon your arrival at our Indoor Storage Facility. This is performed for security measures as well as general maintenance.
Propane provides the fuel necessary to take advantage of many of your recreational vehicle's amenities. You use propane to heat water, to bathe in and to cook food. You also use it to run your RV's heating system to keep you warm during the winter. After returning from a camping trip, you must always remember to turn off the propane tank to avoid accidents while your rig is in Las Vegas RV storage. When you store your RV with 24/7 Indoor Storage, we take care of this important job for you.
Propane is a safe, affordable and effective fuel source for RV owners as long as users take the proper precautions when using, refilling and storing tanks. You should have your propane system inspected once a year by a certified service technician to look for leaks, loose connections or any damage that can interfere with the system's safe performance.
We do everything necessary to guarantee the security of your property while under our care. When you return your RV to our storage facility, our staff will make sure your propane tank is turned off to eliminate the risk of an explosion caused by gas building up inside the rig. Simply return your RV and feel free to go about your business without thinking about it until the next time you are ready for a road trip.
In addition to turning off your propane tank, our staff performs various other tasks to prepare your RV for indoor storage. They will turn off the battery, open the RV vents, and even empty your water tanks and backflush the system. You can spend more time enjoying your RV getaway knowing you don't have to worry about performing these chores upon your return.
When you need indoor RV storage Las Vegas residents depend on, call the experts at 24/7 Indoor Storage at 702- 296-1515.
Call 24/7 Indoor Storage at 702-296-1515 or Send us a messsage below: