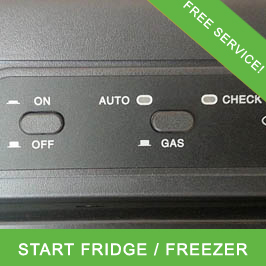 Start RV Fridge/Freezer Service
It can often take some time for a refrigerator to reach optimal temperature, especially in the desert. When our qualified technicians turn on your batteries and propane tanks, We also start your fridge and freezer so it is cold and ready when you pick up your RV at 24/7 Indoor Storage.
One of the first things new RV owners notice is how the refrigerator is nothing like the one in the kitchen at home. With no moving parts, an RV refrigerator absorbs heat from the contents instead of applying cooled air. One disadvantage of this method of cooling is the length of time it takes the refrigerator to cool down after it is turned one. Put your RV in the care of 24/7 Indoor Storage and we will take care of turning on your refrigerator and freezer so they are ready for use by the time you arrive.
Your RV refrigerator and freezer perform better and work more efficiently when you give them enough time to cool down to the proper temperature before loading them with food and beverages. Load cold foods into the refrigerator and already frozen foods into the freezer. The fridge will not have to work as hard initially because it is not trying to cool these foods down from room temperature. Avoid putting too much inside the refrigerator because there needs to be some space for air to circulate around the contents.
When you arrive at your destination, you must make sure your RV is level for the refrigerator and freezer to work properly. Installing an inexpensive fan can improve circulation inside the unit to help it run more efficiently.
Proper use and maintenance will extend the life of the refrigerator and ensure your food stays fresh throughout your trip. It can take several hours for the initial cool down process, which is why 24/7 Indoor Storage offers customers the option of having the refrigerator turned on prior to their arrival. We save you time that allows you to get on the road faster so you can maximize your entertainment schedule.
Call the experts at 24/7 Indoor Storage at 702-256-1515 and discover what makes us the Las Vegas indoor RV storage company that recreational vehicle owners trust most.
Call 24/7 Indoor Storage at 702-296-1515 or Send us a messsage below: