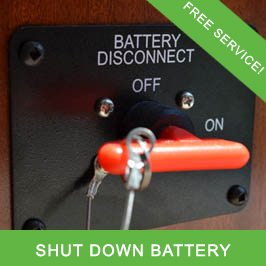 Shut Down RV Battery Service
To increase the life span of your batteries, 24/7 Indoor Storage will automatically shut down your RV batteries at no extra cost to you. If you would like your RV batteries left on, We also have extra services that provide continuous power to your RV and we will even charge your battery if needed.
Nothing is more frustrating than beginning a road trip only to discover you forgot to shut down the batteries after your last trip and you are already running low on charge. When you depend on 24/7 Indoor Storage for your Las Vegas RV storage needs, you never have to worry about this happening to you.
When you store your recreational vehicle in our climate-controlled facility, you have the luxury of taking advantage of our complimentary incoming and outgoing services, including battery maintenance, water tank dumping and propane tank shut off and refilling. We want to help you spend more time enjoying your RV and less time maintaining it.
At 24/7 Indoor Storage we go beyond just maintaining a secure location to shelter our RV from the harsh desert climate. We provide the additional services that allow you to enjoy the best value for your storage dollars.
You rely on your recreational vehicle's batteries to help get you where you are going and enhance your experience when you get there. Without a full charge, you have to limit your electrical usage until you can find a convenience recharging station.
Proper maintenance of your RV's batteries, including shutting them down before storing the vehicle for an extended period, extends the life of the battery and ensures your electrical system is working at peak performance when you need it the most.
The life expectancy of the batteries in your RV depends on how you maintain them, how you store them and how they are recharged. Our staff will care for your batteries so you can concentrate on having fun during your trip.
When you rely on 24/7 Indoor Storage for your Las Vegas RV storage, you never have to wonder if your batteries are road worthy. Leave the maintenance to us and enjoy the full benefits of RV ownership. Call us today at 702-296-1515.
Call 24/7 Indoor Storage at 702-296-1515 or Send us a messsage below: