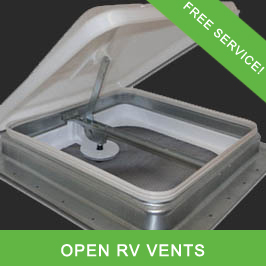 Open RV Vents Service
Upon storing your RV with us at 24/7 Indoor Storage, we also open your vents allowing the air to flow through your RV while it is in storage avoiding any musky odor build up. Our shorter clients really appreciate this.
The roof vents on a recreational vehicle play an important role in allowing fresh air to circulate throughout the interior. Without the ability to open them, the air inside the RV becomes stuffy and stale. This is especially true when an RV goes into indoor storage for an extended period. When you rent indoor RV storage space from 24/7 Indoor, our staff will open the roof vents to allow air to flow through the vehicle while it is not in use.
One advantage of storing your RV inside is the ability to leave the vents open without worrying about the weather. While your recreational vehicle is parked inside our climate-controlled storage facility, there is no danger of rain blowing in and causing water damage to the interior.
While you are on the road, the vents help circulate fresh air throughout the cabin. This eliminates foul odors from the lavatory and overpowering cooking smells from the kitchen area. Anytime the RV is closed up for an extended period, odors are trapped inside. The air becomes stale and the next time you open the door to your RV you are in for an unpleasant surprise.
With indoor storage, you can leave your vents open to allow fresh air in without compromising the safety or condition of your RV. When you drop off your RV, our staff will make sure the vehicle is ready for safe storage by opening the vents, disconnecting the batteries, turning off the propane tank and flushing out the water system. We handle these duties free of charge for you, so you have more free time to do the things you enjoy doing.
Our attention to detail and commitment to customer service is what sets us apart from other Las Vegas indoor RV storage companies. Call 24/7 Indoor Storage today at 702-296-1515.
Call 24/7 Indoor Storage at 702-296-1515 or Send us a messsage below: