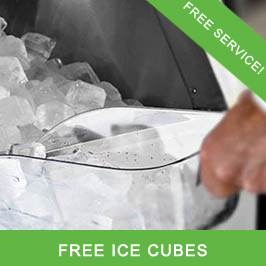 Las Vegas RV Storage: Free Ice for your RV's Ice Chest
Las Vegas RV Storage provides FREE ice for your RV's ice chest. Sometimes you just want something a little extra cold! So bring your ice chest and we will fill it up for you at no extra charge!
When you store your RV with 24-7 Indoor Storage, you receive much more than just a safe place to keep your vehicle. Our complimentary incoming and outgoing services allow you to spend more time enjoying the great outdoors and less time worrying about the small details.
When you pick up your RV, you don't even have to worry about stopping on the way to buy ice for your portable coolers because we provide free ices cubes to all our customers.
When you plan an RV vacation, the last thing you want to do is delay your departure. At 24-7 Indoor Storage, we prepare your RV so you can get on with the fun. You receive our incoming and outgoing services free of charge, twice per month, as part of your storage contract.
All you have to do is give us at least 24 hours notice and we will turn on the refrigerator to give it enough time to reach the proper temperature. Our staff will fill the water tank with fresh water and even clean the windshield. We'll reconnect the battery and with 48 hours notice, we can charge it if necessary.
Taking care of the little things before you even arrive to pick up your RV allows you to maximize your time so you can enjoy your trip to the fullest. When you arrive at our storage facility, all you have to do is transfer your bags, fill up your ice chests with free ice cubes from our freezer and off you go.
We take the hassle out of RV ownership, so you can enjoy all the benefits of your investment. In between trips, your RV is protected from the elements, theft and vandalism in our climate-controlled building.
See why more recreational vehicle owners trust 24-7 Indoor Storage for all their Las Vegas indoor RV storage needs. Contact us today at 702-296-1515 and find out more about all our complimentary outgoing services.
Call 24/7 Indoor Storage at 702-296-1515 or Send us a messsage below: