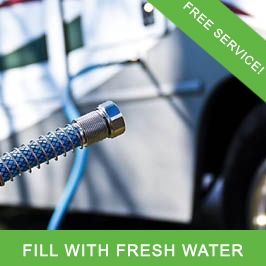 Las Vegas RV Storage: Fill RV with Fresh Water
At our Las Vegas RV Storage we have dedicated stations our technicians use to fill and dump your RV's fresh water tank(s). When you arrive at our Indoor RV Storage Facility we dump your RV's fresh water tank(s), and when you leave we make sure they are full.
Every self-contained recreational vehicle has a freshwater system that stores water for use in the kitchen and bathroom.
Proper maintenance before and after trips ensures that the plumbing system in your RV delivers fresh water for cooking, drinking, bathing and cleaning.
At 24/7 Indoor Storage, we include filling the tank before your departure and emptying it after you trip as part of our complimentary incoming and outgoing services package when you store your RV with us.
Draining the tank before putting your RV into storage is important because standing water becomes stagnant. This creates the ideal environment for the growth of harmful bacteria that can contaminate the tank. Our staff will flush the system and refill the tank before your next outing with fresh water from our dedicated station. We always use a clean, potable hose to avoid the introduction of any contaminants that can make the water unsafe or give it a foul odor or taste.
One of the more unpleasant tasks associated with RV ownership is dumping the black water tank after a long road trip. When you sign a storage contract with us, that particular job is something you will never have to worry about again. In addition to draining your freshwater tank, our complimentary incoming services include emptying the black water tank. Proper disposal of black water from the toilet is important because it contains disease-causing microbes that are harmful to human health.
We take care of prepping your vehicle, so all you have to do is pack your gear. In addition to our complimentary services, we offer a wide range of additional services at affordable rates. We can deliver your RV to you, fill the tanks with gas and propane and even take care of ordering supplies from a local supermarket.
Discover why 24/7 Indoor Store is the most trusted company for indoor RV storage in Las Vegas. Pick up the phone and call us today at 702-296-1515.
Call 24/7 Indoor Storage at 702-296-1515 or Send us a messsage below: