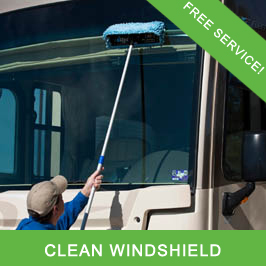 Las Vegas RV Storage: Clean RV Windshield & Mirrors
No body likes a dirty wind shield, and one this size can be job of itself. The technicians at our Las Vegas RV Storage will clean your RV windshield and your RV mirrors every time you pick up your RV at our Indoor RV Storage Facility.
In addition to making the vehicle look shabby, a grimy RV windshield and dirty mirrors are hazards while driving. When you are driving a vehicle that big and heavy down the road, you need to be able to see clearly in front of you, behind you and on both sides.
Anything that hampers your visibility can cause a catastrophic accident resulting in extensive damage to the vehicle and, quite possibly, serious injuries to the passengers. At 24/7 Indoor Storage, we care about the safety of our customers. This is why we include cleaning your RV windshield and mirrors as part of our outgoing services package.
All we need is 24-48 hours notice and we can have your RV road ready anytime of the day or night. Cleaning a windshield may be no big deal in your everyday passenger vehicle but it is a whole different animal when you are dealing with a massive RV. You need the right equipment so you can reach every corner.
Making sure to remove all the dirt and grime without leaving streaks maximizes your visibility while driving. And how often have you washed your windows but forgotten about the mirrors? You can count on the reliable staff at 24/7 Indoor Storage to clean all the mirrors at the same time they clean the windshield to give you optimal visibility from all angles. We save you the hassle of tackling this project yourself so you can get on the road to your destination right away.
If you want your RV to shine inside and out, check out our additional services. For a small fee, our staff will wash the roof, scrub the exterior and clean, dust and vacuum the interior. If the carpeting is looking a little worse for the wear, we can shampoo it, leaving the inside of your RV smelling fresh. You can count on 24/7 Indoor Storage to help when you want to show off your RV in all its glory.
Contact us today at 702-296-1515 and discover the best indoor RV storage, Las Vegas has to offer.
Call 24/7 Indoor Storage at 702-296-1515 or Send us a messsage below: