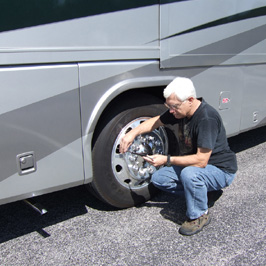 Las Vegas RV Storage: Check RV Tires PSI & Fill if Needed
RV's have a lot of tires to maintain and our Las Vegas RV Storage technicians will check your air pressure and if needed will air them up to the required amount for each tire.
One of the benefits of Las Vegas indoor RV storage is extended tire life. When the tire on an RV fails, the result is never pretty. Protecting your tires from the elements ensures that your tires last as long as they should and provide peak performance whenever you are on the road.
Failing to maintain proper tire pressure is something that can cause a tire failure. When you store your RV at 24/7 Indoor Storage, we always make sure your tires are inflated to the manufacturer recommended pressure before you pick up your vehicle for a road trip.
The longer a tire stays idle, the faster it ages. As the vehicles travels down the road, the tires heat up and flex. When this happens, special compounds in the rubber travel to the surface and offer protection against damage by ozone and the elements. If the tire is not rolling, the compounds remain below the surface and the rubber starts to dry out. Direct exposure to sunlight and extremely high temperatures can cause cracks, especially in the sidewalls. Ultraviolet rays and ozone can cause dry rot and cracking and this damage occurs faster when the tire sits idle for long periods.
These are all great reasons to store your RV in our climate-controlled facility. Special tire covers can offer some protection against sunlight and ozone on a vehicle store outside but they do nothing to control the extreme desert heat Las Vegas experiences during the summer. When you store your RV inside, you eliminate the need to purchase tire covers and can rest assured your tires will still be in great condition even after an extended stay in storage.
Our complimentary outgoing services allow you to begin your road trip as soon as possible. Simply call us 24 to 48 hours before your time of departure and our staff will prepare your RV for the road. This includes checking the tire pressure on all tires and filling them with air when they need it. This saves you the hassle of having to pull your rig into the nearest gas station just to air up the tires. Additional complimentary services include filling the fresh water tank, charging up the battery and turning on the propane and refrigerator so all you have to do is load your gear and go.
Our commitment to customer service is what sets us apart from the other indoor RV storage companies in Las Vegas. Find out more about our complimentary outgoing services by calling 24/7 Indoor Storage today at 702-296-1515.
Call 24/7 Indoor Storage at 702-296-1515 or Send us a messsage below: