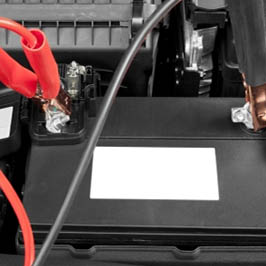 Las Vegas RV Storage: Charge RV Battery Before Pickup
As long as you give our Las Vegas RV Storage Facility 48hrs notice, we can test your RV battery and charge it for you so you will not have any delay in picking up your RV.
Before heading out on the road, RV owners have a long checklist of items to take care of including making sure the vehicle's battery has a full charge. Failing to do so can bring a premature end to your RV adventure and a hassle that you just don't need when all you want to do is have fun.
Leave your RV in the care of the experts at 24/7 Indoor Storage and charging your RV battery is something you will never have to worry about again.
When you store your RV indoors, your battery is protected from the extreme temperature changes that can shorten its lifespan. When you bring your RV to us, we will always make sure the battery is disconnected before storage to eliminate the possibility of parasitic drain from various vehicle systems. Even after taking these precautions, an older battery may need a charge after a long period in storage.
Our outgoing services package, available twice per month at no additional cost with every storage contract, includes reconnecting the battery and testing the charge. As long as you give us at least 48 hours notice of your next trip, we can charge the battery and have it ready to go when you are.
In addition to preparing your battery for travel, we will clean the vehicle's windshield, fill the freshwater tank and check the air pressure on the tires.
If you need your RV delivered to you, we can meet you within 15 miles of our storage facility on Ponderosa Way for a flat rate of $150. We can deliver your RV farther away if you need us to. Simply call us for a quote based on the total distance.
No other indoor RV storage company offers so much extra to its customers. Contact 24/7 Indoor Storage today and find out what makes us the premiere RV, luxury vehicle and boat storage company in Las Vegas. Call us now at 702-296-1515.
Call 24/7 Indoor Storage at 702-296-1515 or Send us a messsage below: