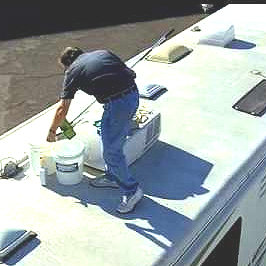 Las Vegas RV Storage: RV Roof Wash - $2.00 per foot
Our Las Vegas RV Storage in Las Vegas Nevada offers Roof Washing for RV's, MotorHomes, MotorCoaches, Fifth Wheels, Travel Trailers etc. Pretty much any thing you have stored with us that is big and has a roof and is hard to wash, we will wash for you including the roof! This is Roof Wash Service and the rate is $2.00 per foot. Our Trained Indoor Storage Technicians will clean all those hard to reach spots and make sure not looks out of the ordinary while up there. Call or stop by 24/7 Indoor Storage today!
No matter how much joy your RV brings you while you are out exploring new places, keeping your vehicle clean can be one of the biggest downsides to owning such a large vehicle. The roof is one area many RV owners neglect to clean because of the risk of falling and suffering a serious injury. At 24/7 Indoor Storage, we provide affordable RV roof wash service so you reap the benefits of having a clean vehicle without risking your neck.
Because the roof is out of sight, it is easy to forget about including it in your regular cleaning routine. If you fail to remove the dirt and debris, the next time you are driving in a rainstorm, you won't be able to ignore the ugly streaks of dirt running down the sides of your rig leaving you an even bigger mess to clean up.
Anyone who has ever tried to wash the roof of a large RV knows how dangerous it can be. The slippery surface makes for treacherous work conditions and if you are not careful, you can slide right off the edge. This is why we provide RV roof wash service to our customers for just $2.00 per foot. Our professionally trained technicians have the experience and resources to complete this task safely. They take all necessary precautions to prevent property damage while working on the rook and assume all the risk so you never have to.
Our technicians are familiar with cleaning all types of roofing materials, including aluminum, fiberglass, rubber and vinyl. They know what type of cleaning products to use to prevent damage and keep your vehicle warranty intact.
At 24/7 Indoor Storage we always go out of our way to keep our customers completely satisfied. Our complimentary incoming and outgoing service prepare your vehicle for the road or storage leaving you more time to do the things you enjoy doing most.
We offer a wide range of additional services designed to save you even more time and money. We can clean the interior of your RV, shampoo the carpets, fill your fuel and propane tanks, stock your refrigerator and pantry and even deliver your RV to any location.
Keeping your RV clean from top to bottom is something you never have to worry about when you rely on the experts at 24/7 Indoor Storage. When you need reliable RV storage, contact 24/7 Indoor Storage first. Call us today at 702-296/1515.
Call 24/7 Indoor Storage at 702-296-1515 or Send us a messsage below: