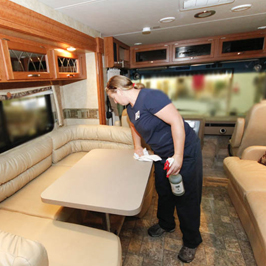 Las Vegas RV Storage: RV Housekeeping - $50 per hour
Our Trained Indoor RV Storage Technicians will perform light housekeeping services for your RV, MotorHome, MotorCoach, Fifth Wheel, or Travel Trailer for $50 per hour. They clean, dust and vacumn while you're parked at our Indoor RV Storage Facility in Las Vegas NV. We will have everything all spruced up and smelling fresh your pickup. Call or stop by 24/7 Indoor Storage today!
If you are like most people, finding the time to properly clean your RV, motor coach, fifth wheel or travel trailer before or after a road trip is something you would probably rather not have to do. With 24/7 Indoor Storage's affordable RV housekeeping service, you can depend on the experts and spend that time doing something else.
An RV that sits in storage for any length of time, even when stored indoors, is bound to accumulate dust on the interior surfaces. The air trapped within the confined space becomes musty and stale making it necessary to air out the vehicle and restore indoor air quality. When you take advantage of our RV housekeeping service before pick up, our staff will clean the interior so your vehicle sparkles and smells as fresh as it looks.
For $50 per hour, our professional cleaners will wipe down the tables, counters, stovetop, cabinet shelves and other surfaces to remove all traces of dust. They will clean the bathroom, vacuum the carpet and wipe down the mirrors, refrigerator and other appliances. You won't have to spend a minute of your vacation time getting your RV ready for the road because we will take care of everything for you. You will enjoy your time on the road so much more if you begin your journey with a clean living environment. It will also make it that much easier to keep up with the housekeeping during your trip.
Maintaining your RV's appearance, both inside and out, is important if you want it to retain its market value. Like any vehicle, allowing it to fall into disrepair will cause it to lose its value.
If you add our exterior wash service, for just $3 per foot, your RV will be shiny on the outside, too. Other additional services include washing the roof and shampooing the carpet. When you keep your RV sparkling clean, it allows you to take more pride in your vehicle as you drive it down the road and whenever you show it off to family and friends.
With our additional maintenance services, you can spend more time exploring the great outdoors in your RV or motor coach and less time dusting, vacuuming and cleaning. Contact us and let us put together a customized cleaning package to suit your individual needs.
Visit 24/7 Indoor Storage at 3850 Ponderosa Way and see why more Las Vegas vehicle owners trust us to protect their travel trailers, fifth wheels, motor coaches and RVs. Call us today at 702-296-1515.
Call 24/7 Indoor Storage at 702-296-1515 or Send us a messsage below: