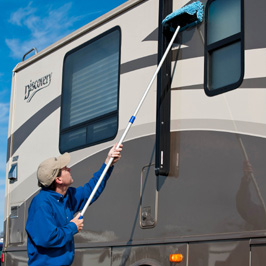 Exterior RV Hand Wash + Spot Free Rinse - $4.50 per foot
At our Las Vegas RV Storage we offer an Exterior RV Hand Wash as an additional service to our Indoor RV Storage customers in Las Vegas Nevada. Due to the extreme weather conditions in Las Vegas and considering the size of these vehicles, this can be quite a task to take on by your self. We have a team of trained technicians that are used to working in desert environments and will gladly wash the exterior of your RV, Motor Coach, Motor Home, & Travel Trailer for a rate of $4.50 per foot. This service also comes with a spot free rinse. Call or stop by 24/7 Indoor Storage in Las Vegas NV today!
Keeping the average RV clean is a time-consuming task that requires the proper equipment to get the job done right. If you are like most people, you would much rather be out exploring the great outdoors in your RV than spending hours at home washing it. With our exterior wash and spot free rinse service, your RV will be sparkling clean the next time you hit the open road.
For just $4.50 per foot, you can leave the dirty work to us while you get on to the more important things in your life. Our technicians have the tools and experience necessary to scrub your RV from one end to the other. They will wash the front, sides, back and tires to eliminate road grime, dirt and debris. For a small additional fee, they will even climb up on the roof and scrub that down, too. They always take special care to wipe down the windows and chrome trim to eliminate all streaks. Our special spot free rinse leaves the finish shiny so you can take pride in your vehicle as you drive along the highways and byways.
When you return your RV bearing the grit and grime from your latest road trip, you can have us wash your vehicle before we place it back into storage. This will prevent corrosion of the paint, which can lead to the formation of rust and premature deterioration.
Whenever you park your RV in our facility and order our exterior wash service, you know that your vehicle will look its best when you come back to pick it up. Maintaining your RVs appearance is just as important to helping it retain its value as taking care of the engine, tires, battery, appliances and other components.
Preserving the appearance will make your RV worth more when it comes time to sell it or trade it in for an upgrade. We offer spacious bays in a temperature-controlled building for recreational vehicles up to 50 feet long. You can forget about having to park your RV in the street where it is at risk of being stolen or vandalized.
Take advantage of our exterior wash service and your RV will be a place that you will be proud to call your home away from home. Come visit us at 3850 Ponderosa Way or call us at 702-291-1515 when you need the best indoor RV storage Las Vegas can provide.
Call 24/7 Indoor Storage at 702-296-1515 or Send us a messsage below: