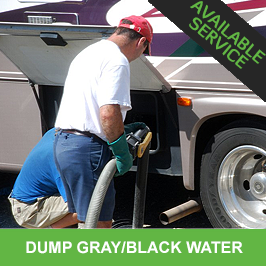 Dump RV Gray & Black Water Service - $25
Seriously, after a long road trip who wants to get their hands dirty? And who wants to park or store their RV leaving these tanks full? Call 702-296-1515 Today! 24/7 Indoor Storage handles this for you as an additional service so be sure to ask about it when you arrive if you would like your water dumped.
You have just returned from an amazing road trip in your RV. Nothing spoils the good mood like having to face dumping the waste water and doing the other tasks necessary to put your vehicle back in storage. At 24/7 Indoor Storage, we do the dirty work, so you can get back to more important things.
All self-contained recreational vehicles utilize systems to manage clean water and waste water. Clean water, also called potable water, is what you use for cooking, cleaning and bathing during your trip. Any water that goes down a drain after use is waste water. Water draining from the toilet flows into a black water tank while water draining from sinks and showers goes into the gray water tank.
Sitting for extended periods can be more difficult on holding tanks and water pipes than other systems in most recreational vehicles. Any standing water will stagnate and contaminate the holding tanks. This is why it is so important to empty the water before storage.
Gray and black water contain bacteria and other microbes that can be hazardous to human health. Always using the proper procedures, protective gear and tools eliminates the risk of spreading contamination. Our highly trained staff has the equipment and experience necessary to dump the dirty water from your RV safely.
Making sure your dirty water tanks are empty before storage will eliminate foul odors from building up inside the RV. The next time you hit the road, your vehicle will be clean, fresh and ready to go.
When you trust your Las Vegas RV storage to 24/7 Indoor Storage, you maximize the benefits of RV ownership by leaving the dirty work to us. We offer spacious climate-controlled vehicles bays for recreational vehicles up to 50 feet long.
Call us at 702-296-1515 to discover the indoor RV storage Las Vegas vehicle owners rely on most to protect their investment.
Call 24/7 Indoor Storage at 702-296-1515 or Send us a messsage below: