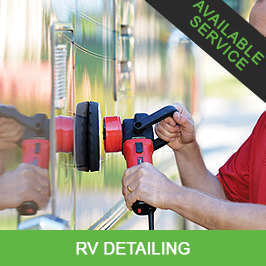 Las Vegas RV Storage: Detailing, Waxing & Buffing - $9.50 per foot
Our Las Vegas RV Storage Technicians in Las Vegas Nevada can wax and buff your car, boat, RV, MotorHome, MotorCoach, Fifth Wheel, Travel Trailer or anything else you store with us that has paint, we can detail it for you while your parked in our Indoor Storage Facility at a rate of $9.50 per foot. Call or stop by 24/7 Indoor Storage to learn more about all of our Indoor Storage Services in Las Vegas NV.
By storing your vehicle at 24/7 Indoor Storage, you are already doing everything you can to protect it from the elements. Safe from the punishing sunshine and corrosive environmental contaminants, you can save a good deal of wear and tear on the paint by storing your vehicle indoors. When you take it a step further with our detailing service, your baby will turn heads wherever he goes.
Everyone wants to make a good first impression. Looks may not be everything but chances are appearance was an important factor when you purchased your new motorcycle, boat or luxury vehicle. The vehicle you drive, and how well you take care of it, say a lot about the type of person you are. Our professional storage technicians can help you keep up appearances by making sure your vehicle shines from nose to tail and from top to bottom.
For $9.50 per foot, we will wax and buff your car, boat, motorcycle or RV until it shines like the day it rolled out of the factory. Our technicians are aware of the special handling necessary to care for vintage automobiles, luxury vehicles and restorations with specialty paint jobs. They will use the proper equipment and products to preserve the finish of your prized possession.
We believe you should be able to spend as much time as possible enjoying your vehicle. That's why we offer our customers so many additional services when they store their vehicles with us. Like any other indoor storage facility, we offer around the clock security and a temperature controlled environment to protect your asset. What makes us different are all the little things we do to keep our customers satisfied.
Complimentary outgoing services include removing the cover, dusting off the exterior, hooking up the battery and checking the air pressure in the tires. Our affordable additional services include washing the exterior and vehicle delivery to the destination of your choice. We can even go shopping for snacks and beverages so you can just jump in your vehicle and go without having to make an extra stop along the way.
You never have to worry about the condition of your vehicle when you come to pick it up from 24/7 Indoor Storage. Our professional storage technicians care for every vehicle like it was their own and with our detailing service, your baby will probably look even better than you remember.
Call us today at 702-296-1515 and discuss your options for indoor vehicle storage with one of our friendly customer representatives.
Call 24/7 Indoor Storage at 702-296-1515 or Send us a messsage below: