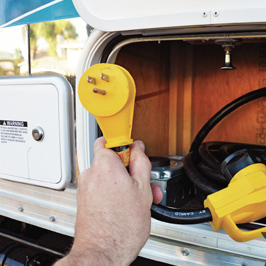 Continuous Power (Prevost RV) - From $25 per month
TRICKLE CHARGE (cars,boats,bikes)..................................$25 month
15 AMP POWER HOOKUP.................................................$50 month
30 AMP POWER HOOKUP.................................................$75 month
50 AMP POWER HOOKUP (+ refridgerator).......................$100 month
EVERYTHING PLUS A/C (oct-april).....................................$150 month
EVERYTHING PLUS A/C (may-sept)....................................$200 month
24/7 Indoor RV Storage in Las Vegas NV can suit your needs by providing continuous power to your RV, Motor Coach, or Motor Home 24 hours a day, 7 days a week! Why? because some like to have everything exactly like they left it when they return including the inside teperature of their RV, fridge, etc. Maybe you have a lot of settings in different components and disconnecting batteries while in RV Storage might reset them and you don't want to have to enter them all in again.
One of the benefits of using our Indoor RV Storage Facility is that we are also a Climate Controlled Indoor RV Storage Facility so you would not really need it however it is there availble for you. Call or stop by 24/7 Indoor Storage in Las Vegas NV today!
24/7 Indoor Storage offers a variety of additional services that go beyond the routine check-in and check- out services we automatically perform for every RV storage customer.
Many Las Vegas RV owners prefer to conserve the vehicle battery by having us disconnect it while the RV is in storage. If you would rather leave your coach hooked up to continuous power for the duration of its stay, we provide that service as well.
Continuous power may be a more convenient option if you use your RV frequently, whether it is seasonally or annually. Providing your RV with power while the vehicle sits idle will maintain any custom settings you may have on various electronic devices inside your coach. This saves you from having to reset everything before you leave for your next road trip. Regardless of your reason, 24/7 Indoor Storage gives you many options for plugging your RV into a power source for as long as you need it.
Parking your RV in our climate-controlled facility is the most effective way to protect your investment while it sits idle. RVs left outdoors are vulnerable to wear and tear caused by high temperature, sunlight and ozone. Shielding your RV from the elements prevents paint corrosion that can lead to rust while extending the life of the tires and any other component that is sensitive to heat or ultraviolet rays.
When you park your RV with us, you don't have to worry about finding a nearby power source or staying constantly vigilant to ensure your RV does not fall prey to vandals or thieves. Let us take care of keeping your RV safe. Our property is staffed around the clock and our extensive security surveillance system covers multiple zones, so nothing happens on our site without us knowing about it immediately.
We take all the worry and hassle out of storing your RV so you can spend more time enjoying all the benefits. Spend more time on the road seeking adventure and less time performing routine maintenance tasks. We offer our complimentary incoming and outgoing services to every customer twice per month. Our technicians will have your RV all set up and ready to go every time you schedule a pick up.
See for yourself why 24/7 Indoor Storage is the most trusted name in Las Vegas RV storage. Call us today at 702-296-1515.
Call 24/7 Indoor Storage at 702-296-1515 or Send us a messsage below: