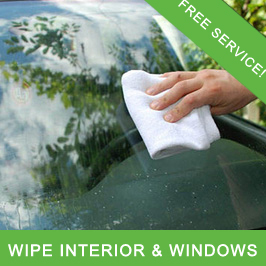 Vehicle Storage Las Vegas: Wipe Down Car Interior & Car Windows
Our Las Vegas Vehicle Storage is preprared to take care professional care of your car while in our climate controlled storage facility in Las Vegas NV. Call 702-296-1515 or stop by today!
Discerning car owners searching for a secure place to store a prized vehicle will find everything they need at 24/7 Indoor Storage in Las Vegas.
We understand how important your car's appearance and condition are to you. When you bring your precious possession to us, we prepare it for storage by washing it, wiping the exterior and cleaning the windows.
Two of the biggest benefits of storing your vehicle indoors are protection against the elements and the reduction in maintenance necessary to help it retain its appearance. Washing your car before it goes into storage ensures that it will still be looking its best when you pick it up for your next road trip.
Our complimentary incoming services also include shutting down the battery and adjusting the tire pressure to avoid flat spots. These helpful services are available to all 24/7 Indoor Storage customers twice per month at no extra charge.
The harsh desert sun makes it difficult for many vehicle owners in the Las Vegas valley to provide the kind of protection a vintage vehicle or luxury car needs to retain its value. A garage may offer protection against the sun, wind and rain but unless it features climate control, extremely high temperatures during the summer can take their toll.
Many car components are vulnerable to heat and ultraviolet rays. Paint fades, decals lose their adhesive properties, rubber cracks and window seals lose their shape. We maintain our modern facility at the optimum temperature to eliminate the risk of heat damage to vehicles and their components. This means you never have to worry about premature replacement of parts due to overexposure to the sun.
High wind speeds in the valley also take their toll on vehicles. Cars parked on the street or in a driveway are at risk of damage from falling or flying objects. Broken tree limbs can punch a hole through glass or pierce a soft-top convertible leaving the owner with hundreds of dollars in replacement costs. Enclosed storage eliminates these threats so you can relax the next time the wind starts to howl.
Call 24/7 Indoor Storage for an affordable solution when you need a secure facility for your vehicle, regardless of make, model or year. We can tailor a short-term or long-term storage plan to suit your individual needs. Contact us today at 720-296-1515 for vehicle storage Las Vegas car owners trust to protect their most valuable possessions.
Call 24/7 Indoor Storage at 702-296-1515 or Send us a messsage below: