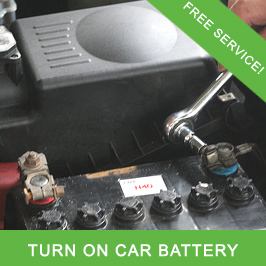 Vehicle Storage Las Vegas: Turn on Car Battery
When you are ready to pick up your vehicle fromour Vehicle Storage Las Vegas facility, our Las Vegas Vehicle Storage Technicians will reconnect your car battery and check to make sure the terminals are tight and have no corrosion on them. Depending on how long your car has been parked in our Indoor Car Storage Facility, the battery should not have lost much charge as it has been disconnected however our Las Vegas Car Storage Technicians are also preprared to charge your car battery for you also. Please call or stop by 24/7 Indoor Storage today!
You rely on your car battery to start the engine every time you turn the key. Proper care while your vehicle is in storage can eliminate any unpleasant surprises when it's time to pick up your car. When you store your car with 24/7 Indoor Storage, our experienced auto care technicians follow the procedures necessary to ensure your battery remains in good working condition.
Car batteries are not cheap. You want yours to perform when you need it to and you want it to last as long as possible. Disconnecting the battery before storage saves the charge from draining while the car sits idle. It also eliminates corrosion build up around the terminals. At 24/7 Indoor Storage, our expert car care technicians take care of your battery after you drop off your car and before you pick it up. You never have to wonder whether your battery has enough power to get you to your destination and back.
When you call us for pickup, our technicians reconnect the battery and verify that it is has a full charge. They have all the equipment they need to charge the battery for you if the charge is low. You will never have to worry about whether your car will start when you turn the key to take off for your next road trip.
Our professionally trained technicians are familiar with all models and makes of cars, new and old. They understand the special handling needed to care for and handle vintage, rare, and high performance vehicles of all kinds. You can rest assured that your favorite ride is in good hands whether you store it in our climate-controlled storage building for two months or two years.
Spacious parking stalls allow for plenty of empty space to prevent any damage to your vehicle's paint or body. Our facility is equipped with a sophisticated security system designed to provide around the clock protection for every vehicle under our care. We guarantee the safety and security of your prized possession regardless of its monetary value.
If it's important to you, it's important to us. We understand the pride you take in your vehicle and our technicians will treat it just as if they owned it themselves. Our complimentary outgoing and incoming services allow you to spend more time enjoying your ride and less time worrying about how to take care of it. Go ahead, just drive, and leave the rest to us.
For security and outstanding customer service, call 24/7 Indoor Storage at 702-296-1515 for the vehicle storage Las Vegas car owners trust most.
Call 24/7 Indoor Storage at 702-296-1515 or Send us a messsage below: