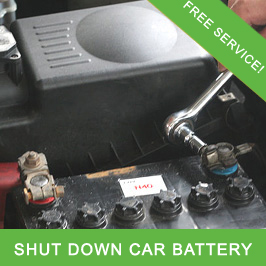 Vehicle Storage Las Vegas: Shut Down Car Battery
Once you car has been parked in our Las Vegas Vehicle Storage Facility in Las Vegas Nevada, our Vehicle Storage Technicians will disconnect your battery for you. Shutting down the battery while your car is parked in our 24/7 Indoor Car Storage in Las Vegas NV will help extend the life of your cars battery. It can also help prevent damage to other areas of your car if they start to leak and they stand more of a chance of leaking if they are connected. Call 24/7 Indoor Storage or stop by today!
A dead battery is a common problem with vehicles that sit idle for extended periods. If you fail to take the necessary steps before storing your car, you may be in for an unpleasant surprise the next time you start the ignition. When you choose to leave your vehicle in the care of 24/7 Indoor Storage, we disconnect the battery for you to extend its lifespan and preserve the charge.
If you store your vehicle long-term, our professionally trained technicians will start your vehicle twice a month to keep the battery in top-top shape. Most car and battery manufacturers produce designs that allow for approximately 14 days of idle time with a fully charged car battery in good condition. This time span is dependent on temperature, natural self-discharge, state of charge, reserve capacity and parasitic load.
Starting the engine every two weeks prevents the battery from dropping below 100% discharge, which triggers lead sulfation. Sulfation results in the formation of hard crystals and accounts for the majority of lead-acid battery failures. These crystals decrease battery capacity and prevent it from recharging fully. Sulfation may also occur when a battery is undercharged or overcharged.
Shutting down your car's battery is just one of the many complimentary incoming services we offer to all of our Las Vegas car storage customers. Before placing your vehicle safely into storage, our technicians will check the air pressure, wash the exterior, dress the tires and wipe down the windows and interior. A clean car is better able to withstand long-term storage, which is why we take such care to remove all the grime, dirt, dust and debris your car accumulates while driving on the road. If you provide us with a cover for additional protection against dust, our technicians will replace it.
We offer more for your money when you store your vehicle with us. Our facility is staffed around the clock to serve all your needs. With at least 24 hours notice, you have access to your vehicle any time of the day or night. Our sophisticated security system offers the most up to date technology in the industry to protect your precious car against theft and vandalism. Whether you need to store your car for a few weeks or a few years, 24/7 Indoor Storage can create a custom plan for you.
Contact the leaders in indoor car storage in Las Vegas at 702-296-1515.
Call 24/7 Indoor Storage at 702-296-1515 or Send us a messsage below: