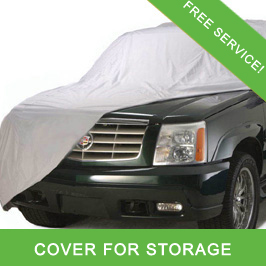 Vehicle Storage Las Vegas: Car Cover for Storage
At our Vehicle Storage Las Vegas Nevada Facility, we will also put a car cover over your vehicle for you if you provide one. However being that your vehicle is an Indoor Las Vegas Vehicle Storage which is also a Las Vegas Climate Controlled Car Storage Facility, you don't really need a car cover, but if you provide one we will put in on for you. If you have questions about any of services, please do not hesitate to call or stop by today!
After investing so much in your vehicle, it would be a shame to leave it exposed to the harsh desert climate. If you need an affordable storage solution for your classic auto or specialty vehicle, 24/7 Indoor Storage has both you, and your car, covered. When you deliver your vehicle to us, our car care staff will treat it with the same tender loving care as you would if you were storing it in your garage at home.
Our experts understand that a clean car withstands idle time in a storage facility better than one that is stored with all the grit and grime from its most recent excursion. That's why we take special care to wash the exterior of every vehicle by hand and wipe it down before placing it into storage. We'll even remove the road grime, tar and debris from your tires and rims.
When you store your vehicle inside our climate-controlled building, you never have to worry about the damage ultraviolet radiation, ozone and other environmental contaminants can do to your vehicle's finish. If you prefer added protection against dust while your car is stored, you can provide us with a fabric cover and we will install that as well.
Making sure your car is clean and shiny is included in our complimentary incoming services package when you trust the experts at 24/7 Indoor Storage with your precious car. Other services include shutting down your car battery and making sure the tires have the proper psi to prevent them from developing flat spots. We can also accommodate your request if you prefer to store your vehicle on jack stands to preserve your tires further. For a flat rate, we will lift the car onto jack stands provided by you and remove it when you call for pickup. For an additional fee, we can even supply the jack stands.
Our complimentary incoming and outgoing services are included twice per month with your storage fee. Just call us with your desired pickup time and we will prepare your car for the road by removing the cover, reconnecting the battery, taking the car off the jack stands, checking the air pressure in the tires and dusting off the exterior, including all the windows.
Storing your vehicle with us will keep it looking newer, longer than it would if exposed to the punishing desert sun. Don't let your precious vehicle fall victim to the elements. Call 24/7 Indoor Storage at 702-296-1515 and explore your options for reliable Las Vegas car storage.
Call 24/7 Indoor Storage at 702-296-1515 or Send us a messsage below: