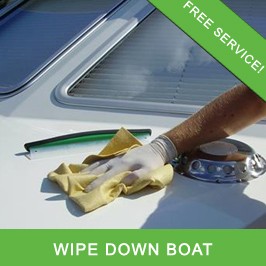 Las Vegas Boat Storage: Wipe Down Boat & Clean Boat Windows
Whether your boat was in our Las Vegas Boat Storage with a boat cover or not, or whether it has been at 24/7 Indoor Storage a week or a month, we also wipe down the exterior of your boat and clean the boat windows for you as an additional service.
After investing so much money in your boat, you want to ensure it looks its best when you finally get a chance to take it out on the water.
At 24/7 Indoor Storage, we understand the pride you take in your vessel, which why we take such good care of it for you at our state-of-the-art facility.
Your storage contract includes a wide range of free services to help your boat retain its appearance and maintain its value. This is an additional service to wipe down your boat before every pickup and after every delivery to keep it clean and shiny.
Our climate-controlled storage buildings offer the best protection for your boat and trailer. You never have to worry about damage from flying objects when the wind howls or premature tire deterioration caused by extreme temperatures and exposure to the sun. Your boat will be safe and secure inside regardless of the weather.
Your storage fees are a sound investment because your boat will keep its value longer with proper storage and maintenance. When you store your boat outdoors, you are risking premature deterioration caused by the elements. Boats parked on the street are open invitations for vandals and thieves.
When you call us for pickup, we take the time to prepare your boat so you don't have to. We will remove the cover, wipe off the dust and put air in your trailer tires. You can be on the road within minutes of your arrival with our complimentary outgoing services included with your storage contract. Before you leave, be sure to top off your ice chests with free ice from our freezer. Complimentary ice is just one more privilege you enjoy when you store your boat with us.
Stop by our property on Ponderosa Way to see firsthand why more area boat owners trust us to take care of their watercraft. Our clean, spacious bays offer plenty of room with no crowding. We can store any recreational vehicle up to 50 feet, passenger vehicles of all sizes and even your ATVs, motorbikes, personal watercraft and other toys. Storing your vehicles with us reduces the clutter in your own garage and frees up some space for other uses.
Boat ownership should be a pleasure, not a chore. When you trust your Las Vegas boat storage to 24/7 Indoor Storage, you spend less time taking care of your boat and more time having fun with it.
Call 24/7 Indoor Storage at 702-296-1515 or Send us a messsage below: