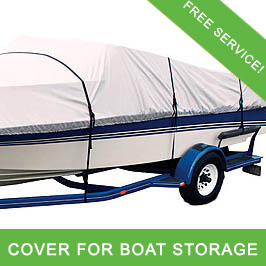 Las Vegas Boat Storage: Take off Boat Cover For Pickup
When you are ready to pick up your boat at our Las Vegas Boat Storage, or have it delivered to you at Lake Mead or in Las Vegas, our staff will also take off the boat cover and straps for you. Just another task you no longer have to worry about when you store your boat with 24/7 Indoor Storage.
At 24/7 Indoor Storage, we are dedicated to doing whatever it takes to help you maximizing the time you have to spend in your boat on the water.
When you store your boat with us, we take care of removing your boat cover for pickup and all the other little tasks that stand between you and a fun time at the lake.
When you supply the boat cover, our staff assumes the responsibility for covering your boat when you drop it off for storage and removing it before you arrive for pickup.
Indoor storage in one of our climate-controlled bays offers all the protection your boat needs from moisture, sunlight and ozone. Most boat owners prefer to strap on a cover any way because it helps keep insects out and prevents dust from accumulating on the finish while the boat sits idle.
When you call us for pickup, we prepare your boat for transport. When you arrive, all you have to do is hook up your trailer and hit the road. Our staff will remove the cover and store it safely until you return. We check the air pressure on the trailer tires to ensure your safety while hauling your boat to the water. We even wipe down the trailer and boat so your baby is looking her best when you come to pick her up.
Customers who want to bypass the step of picking up their boat can pay a flat rate for delivery anywhere within 15 miles of our property on Ponderosa Way. For an additional fee, we can even drive your boat to the lake and set it up for you. Contact us for more information about these and other extra services.
The less time you have to spend preparing your boat for launch, the more time you can enjoy on your boat. At 24/7 Indoor Storage, we take the time to do the little things so you can take full advantage of the benefits of boat ownership. You can spend more time at the lake knowing that after you drop off your boat with us, our professional staff will wash it, wipe it down, disconnect the battery, replace the cover and check the tire pressure before placing it safely behind locked doors.
Instead of wasting time taking care of your boat, spend more time enjoying it. Contact the experts in Las Vegas boat storage at 24/7 Indoor Storage. Call us today at 702-296-1515.
Call 24/7 Indoor Storage at 702-296-1515 or Send us a messsage below: