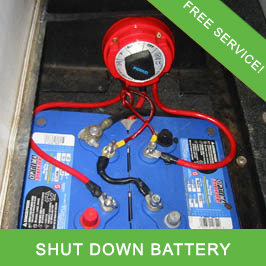 Las Vegas Boat Storage: Shut Down Boat Batteries
Who wants to wait around for a battery to charge? Our trained staff also shuts down your batteries before going into our Full Service Las Vegas Boat Storage. This helps your batteries last longer, as well as the charge. This is also a task that is often forgot about and will help reduce the need for battery replacement.
After looking forward to your next day on the lake, nothing is more frustrating than having to sit around and wait for your boat battery to charge.
When you make the decision to store your boat with 24/7 Indoor Storage, you never have to deal with the disappointment of a dead battery delaying your trip.
How and where you store your boat will affect battery performance. Even while the boat is sitting idle in storage, its battery can lose as much as 30 percent of its power. Battery age, humidity levels, state of discharge and temperature can affect battery charge. Cold temperatures will cause the battery to discharge more rapidly. If even a single cell freezes, the battery is ruined and you will have to purchase a replacement.
Our staff takes care of shutting down your boat battery before placing your vessel safely in storage. The climate-controlled environment protects the battery from extreme temperatures during the winter. This preserves its condition and ensures peak performance during boating season.
Shutting down the battery is just one perk you receive when you store your boat with 24/7 Indoor Storage. Our complimentary incoming services are available to all customers at no extra fee twice per month and include washing your boat and trailer, cleaning and dressing the boat trailer tires, monitoring tire pressure and replacing the cover. With our attention to detail, you never have to worry about what condition your boat will be in when you pick it up for a day on the water.
Give us 24 hours before your next pick up and we will have your boat ready to go when you are. For a small additional fee, we can even set up your boat and meet you at the lake so you don't have to make an extra stop to pick up your boat and you can get on the water sooner. We do everything we can to help you maximize the fun time while taking the storage headaches out of boat ownership. If you require assistance with something not listed on our "Additional Services" page, just ask. We are committed to doing everything possible to keep our customers completely satisfied.
Our storage bays shield your pride and joy from the weather while our state-of-the-art security system provides around the clock protection against vandals and thieves. See why more area residents depend on 24/7 Indoor Storage when they need reliable Las Vegas boat storage. Contact us today at 702-296-1515.
Call 24/7 Indoor Storage at 702-296-1515 or Send us a messsage below: