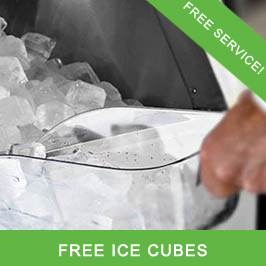 Las Vegas Boat Storage: Free Ice for your Ice Chest!
Las Vegas Boat Storage provides FREE ice for your ice chest. Sometimes you just want something a little extra cold! So bring your ice chest and we will fill it up for you at no extra charge!
When you plan a day on the water, all you want to do is launch your boat as quickly as possible. Small delays add up quickly and before you know it, you've lost precious time that you could have spent enjoying the water.
At 24/7 Indoor Storage, we do everything we can to give you back the time you would normally lose taking your boat out of storage and preparing for your outing. We even save you the hassle of stopping at the store for ice with complimentary ice cubes for your portable coolers. We keep our freezers stocked, so you can just fill up and go.
All storage facilities offer a secure place to protect your asset but at 24/7 Indoor Storage, we offer more value for your money with our complimentary incoming and outgoing service packages.
Give us 24-hour notice of your pickup time and our staff will get your boat ready for transport. We will remove the cover, wipe off the dust and add air to the trailer tires, if necessary. When you arrive at our facility, stock up on ice and away you go.
When you bring your boat back, you can just drop it off and leave the rest to us knowing that we can give it the attention it needs before going back into storage. Our staff will scrub down the exterior making sure to remove all grime from every surface. They will wash down the trailer, dress he tires and check to ensure they are inflated to the proper psi. Shutting down the battery is another service we provide to extend the life of your equipment.
These services are available to you for no extra charge twice per month when you store your boat with 24/7 Indoor Storage.
While under our care, your boat is safe from vandalism and theft. Our facility has staff on duty around the clock and under surveillance at all times with multiple alarm zones and cameras dedicated to protecting your property. When you store your boat with us, you never have to worry about damage, theft or severe weather.
With our reasonably priced additional services, we can deliver your boat to you or the lake. We can even ready your vessel for launch.
Spend more time enjoying your boat and less time worrying about how to protect it by calling 24/7 Indoor Storage, the premier Las Vegas boat storage company. Call us today at 702-296-1515.
Call 24/7 Indoor Storage at 702-296-1515 or Send us a messsage below: