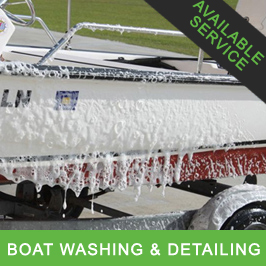 Las Vegas Boat Storage: Exterior Boat Wash
When you bring your boat to our Las Vegas Boat Storage, we offer an additional service to wash the exterior of your boat, boat trailer and boat tires and rims. This is an additional service and helps to reduce oxidation, removes any lake and road grime and helps to keeps your boat looking good. For more info call us today at 702-296-1515.
Indoor storage offers boat owners the most effective way to protect their investment. When you store you boat inside, you can rest assured your baby is safe from the weather, vandals and thieves.
At 24/7 Indoor Storage, you receive the added benefit of knowing our professional staff will take care of your precious possession as if it were their own.
We take the headache out of routine maintenance, so you can spend more time on the water. Cleaning your boat before it goes into storage is one task you won't have to worry about because we do it for you.
After a day on the water, it is important to remove the dirt and grime the boat accumulates during both its transport on the road and in the water. This protects the finish from oxidation and makes it easier to prepare your boat for its next outing. Our exterior boat wash service includes cleaning every part of the vessel, including the bottom, deck, topsides, trim and hardware. Our staff will also take care of cleaning the boat trailer, tires and rims.
Washing the exterior of your boat is an additional service we provide to our customers. When you return your boat for storage, our staff will also wipe down all surfaces to eliminate any water spots from the wash, dress the trailer tires, check tire pressure, shut down the battery and cover the vessel. We provide these services twice per month and for a small fee for any additional pick-ups during the month.
Maintaining your boat's appearance is important if you want it to retain its value. At 24-7 Indoor Storage, we help protect your investment with our complimentary exterior boat wash service. For the most reliable Las Vegas boat storage available, call us today at 702-296-1515.
Call 24/7 Indoor Storage at 702-296-1515 or Send us a messsage below: