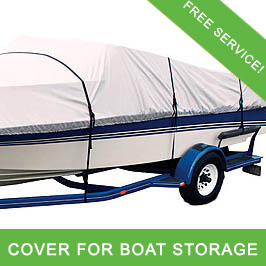 Las Vegas Boat Storage: Cover Boat for Indoor Storage
The final step of our Full Service Indoor Boat Storage Incoming Service is to secure a boat cover over your boat. Due to the different sizes of boats that 24/7 Indoor Storage houses we do not carry boat covers for our customers and you will need to provide one if you would like your boat covered as well. We'll do all the hard work you just have to bring the cover.
At 24/7 Indoor Storage, we offer a range of services that allow you to keep the party going after a fun-filled day on your boat.
With our incoming services package, all you have to do is drop off your boat at our storage facility and let our professionally trained staff take care of everything, which includes covering your boat for storage.
Keeping your boat indoors during the off-season and between outings extends the life of your vessel. Storage in our climate-controlled facility keeps your boat in a condition that will make you proud to take it out on the water.
You supply the boat cover of your choice and our staff will take care of securing it in place after drop off and removing it and placing it in storage after pick up. Covering your boat is just one less thing you have to deal with after enjoying your time at the lake. Our staff will make sure the battery is disconnected and scrub down the exterior and trailer to remove dirt and grime from the road and the water. They will wipe the vessel clean, dress the tires and check the tire pressure before placing the boat in our secure building.
We provide around the clock security, so you never have to worry about vandalism or theft. You can rest assured that your boat is safer with us than it would be stored on your own property. We take our responsibilities seriously, which is why we incorporate the latest technology in our security system and have staff on the property at all times.
At 24/7 Indoor Storage, our level of care goes beyond just making sure your boat is safe. Our complimentary incoming and outgoing services help you keep your boat looking its best and performing at its peak.
When you call us for pick up, we spend the time necessary to remove the cover, wipe down the boat and trailer and air up the tires if necessary. This allows you to maximize your time having fun and minimizes the time you have to invest in routine maintenance.
If you want to get on the water even faster, we offer additional services, including delivering your boat to the lake and setting it up for launch. When you pick up your boat at our storage facility, be sure to fill up your coolers with complimentary ice from our freezer.
Call us today at 702-296-1515 to learn more about the best Las Vegas indoor storage for boat owners.
Call 24/7 Indoor Storage at 702-296-1515 or Send us a messsage below: