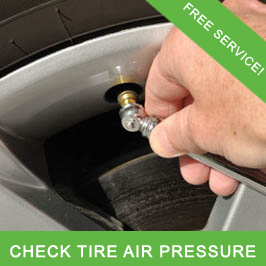 Las Vegas Boat Storage: Check Air in Boat Trailer Tires on Pick up
The last thing you want to have to deal with is a flat on your way to the lake. Our trained staff will also check the air pressure in your boat tires and will fill your boat tires with air if they need it.
The hassle of dealing with a flat tire on your boat trailer can take all the fun out your next trip to the lake. Trailer tires usually fail long before the tread wears down because the construction makes the sidewalls vulnerable to ozone, extreme temperatures and exposure to the ultraviolet rays in sunlight.
Storing your boat with 24/7 Indoor Storage is one way to ensure you get your money's worth out of your boat trailer tires. Tire reliability is critical when you are hauling your boat to and from the lake. If the tires are underinflated or overinflated, they cannot perform as designed and can put you at risk of getting in an accident. A tire blow out at high speed can result in thousands of dollars in property damage and worse, put you and your family at risk of suffering serious injuries.
When you keep your boat in our modern storage facility on Ponderosa Way, we take special care of your trailer tires so they last as long as they should. Every time you drop off your boat, our staff checks the tire pressure and adds air if necessary. Storing a trailer when the tire pressure is too low increases the risk of the tires developing flat spots. When you call for pick up, we check the pressure again to eliminate the hazard of your boat traveling on underinflated tires.
Checking the tire pressure is just one of many services we provide to all our boat storage customers. Indoor storage for your boat between trips to the lake and during the off-season minimizes environmental wear and tear. Your boat is safe from damage caused by high winds and the unrelenting desert sun.
When you call us for pickup, our staff will remove the cover, wipe down the boat and trailer to remove any dust, reconnect the battery and check the tires before you even arrive. This eliminates any unnecessary delays and allows you to get on the road as quickly as possible. We even provide you with complimentary ice for your portable coolers to save you an extra stop along the way.
As a customer of 24/7 Indoor Storage, you can take advantage of our complimentary incoming and outgoing services twice per month. We take protecting your asset seriously. Our business philosophy and dedication to customer service are what make 24/7 Indoor Storage the best choice for Las Vegas boat storage. Call us at 702-296-1515 today.
Call 24/7 Indoor Storage at 702-296-1515 or Send us a messsage below: